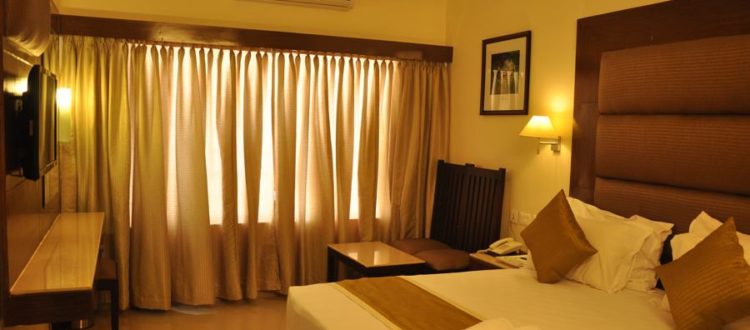 Start From
INR:2,900.00 / Night
Deluxe Seaview Room- The Gopinivas Grand
The Deluxe Seaview room in Kanyakumari, At The Gopinivas Grand is the perfect choice if you'd like to view the mesmerizing Kanyakumari sunrise in quietude and without the hustle and bustle of the tourist area. Sip a cuppa while setting your eyes on the breathtaking view. Ah! Pure nirvana, ain't it?
Look no further for hotels in Kanyakumari near beach. The Gopinivas Grand is not more than a few meters from the ocean. With the vast compass of ocean for company and the stylish décor that's comfortable yet sophisticated, you are sure to enjoy your stay here.
The Deluxe Seaview Room at the Gopinivas Grand boasts of sleek architecture and contemporary interiors. It has all the luxuries and amenities of a typical 21st century hotel, yet retains an old world charm.
Some of our amenities include:
Comfortable Double Bed With Fluffy Sheets And Oodles Of Pillow
TV With DTH Subscription(or Cable- change as accordingly)
Stylish Coffee Tables And Chairs
Express Guest Laundry
Safe Locker Facility
En suite bathroom
From the moment you arrive to the time you leave, we make sure that the place feels less like a hotel and more like your own residence.
Pick a room that's comfortable for you and get set for a one of a kind experience! Call us for further enquiries…..